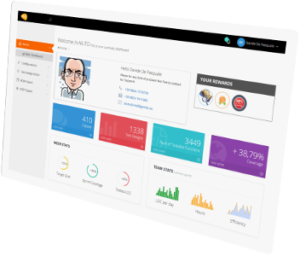 AIUTO has been developed in order to answer to the challenges that our Customers provided us. It means that we are using it actively as an internal tool for our projects.
AIUTO is an Enterprise Web Application developed with the aim to automate and optimize the recurrent and formal work of the Validation and Verification activities in space project.
Thanks to AIUTO we are able to offer to our Customers a very clear and trasparent cost per line of code (LOC) for Unit Testing of on-board software (platform and AOCS algorithms). The LOC cost may vary in respect to the coverage to achieve, type of documentation to provide and specific standard requests, but AIUTO has been designed to overcome all of these points!
AIUTO enables a customer centric approach to the testing activities by allowing the Team to provide in any moment a clear picture of the progress.
Intelligentia is focused in developing smart methodologies, and new technologies to improve the efficiency of important tasks such as the Verification and Validation in aerospace project.
If you want to get more information about AIUTO, please compile the form on the right and you will receive directly in your email a copy of the related datasheet with more information about the tool.
If you like the solution and you would like to touch closer AIUTO, we warmly invete you to contact us. We will find the way to organize a DEMO at your place discussing all the potentialities this tool can offer to your team!
Benefits in adopting AIUTO
AIUTO is actively used for organizing the testing activities for MTG satellite, one of the most important and challenging space project in Europe.
With AIUTO we are observing the following benefits for the project:
40% of efficiency improvements against previous phases of the project;
100% cost saving for activity of reporting and management of the Team workload;
100% time saved for document generation and integration with tools as RQM;
more than 400 LOC (Lines of Code) fully tested per week per single tester (Test Design, Test Implementation, Test Report, KPI update);
Easy way to involve more users in the team with less training on "formal rules" such as standards, conventions, way of operating, scripting training;
100% error reduction in calculating the Changelog from a SW version to another;
Automatically generated and managed traceability between code functions, test design, and test scripts
Do you need more? Let's discuss… AIUTO will be a partner of choise for your project!